TIPS ON HOW TO BIKE

Bicycling in Cold & Snow

Click here for a PDF file containing illustrated tips for bicycling in snowy winter conditions.

SEMI-NAKED OPTIONS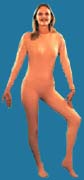 If you've willing spirit but weak flesh, Mr Bike has some options that can help you look naked yet remain (legally) dressed.
Women: Put big square or circular band-aids over your areolas. Wear flesh-colored underwear or a body suit such as the one available from CostumeZone (shown at right).
Men: Wrap that rascal and its two furry pals in an elastic sock or a "whopper bag."
PADDING & PROTECTING YOUR SEAT
When you've got cheek to saddle with nothing in between, you've got two potential problems: comfort and, um, aroma. Mr Bike recommends a folded towel placed on top of the seat. (Some might avoid unexpected embarassment by using a dark towel. Just sayin'!) To ensure it doesn't slip off when you unweight your butt or get off the bike, secure the towel fore and aft with large rubber bands.
EMBARASSED TO SHOW YOUR BOD?
Mr Bike understands—and he has a solution. One way to get all the way nekkid yet avoid the blush: Hide your identify. Wear nothing from the neck down, but don a ski mask or balaclava. If you have distinctive bike that your friends will recognize, borrow a different mount that day. The result: Because no one will know you (how many people can recognize you naked?) you've got zero about which to get embarassed. Later (much later, if you choose) you can out yourself.
AVOIDING ARREST
Mr Bike doesn't like busts (i.e., the enforcement kind). If you don't either: At the first sign of enforcement attention, stop and slip on your underwear. Or you can wait until a police officer tells you to get dressed (if you wanna chance that you won't get pinched [!] first).
FOR MORE INFO
Go to www.worldnakedbikeride.org.



How to Avoid Getting Doored

Click here for a PDF file containing illustrated tips for riding in the door zone and how to avoid getting doored.